High efficiency REC Twin Peak Solar Panels
REC is a solar panel manufacturer, trusted for over two decades, dedicated to empowering homeowners and businesses with clean, affordable solar power. They have manufactured over 40 million panels and powered 17+ million people at home.
We supply and install the highest quality solar panels from REC. Contact us for a free consultation and quote and to find out which REC solar PV panels are right for your project.
REC TwinPeak solar panels use a series of unique and innovative technologies in a ground-breaking cell layout, to give you a high efficiency and high power output product for your home or business.
Combining four technologies together results in an extra power output of over 20 watts per module, a class-leading efficiency of up to 17.7%, setting new standards for polycrystalline solar panels.
MORE POWER FROM THE AVAILABLE SPACE
Packing in the technological advancements, REC TwinPeak solar panels give you more power output per square metre than the standard competition. This means that in areas with limited space, such as rooftops, you can fit in more electricity generation capacity and make maximum use of all available space.
One major advantage of REC's TwinPeak technology compared to standard modules, is its ability to generate electricity even when partially shaded. Over time this helps you gain more energy yield from your installation.
REC TwinPeak solar modules are split into two twin sections which generate electricity independent of each other but combine again before the current exits the module. This helps provide continuous electricity generation in the non-shaded section even at times of reduced irradiance on the module, increasing overall energy yield and installation profitability.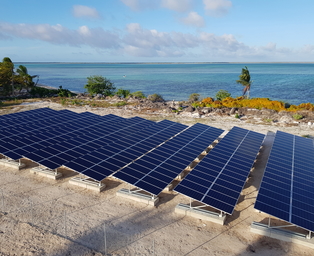 25 YEAR WARRANTY & OTHER UNIQUE FEATURES
As a REC certified installer, solar panels that are installed by CPS Solar, come with a 25 year warranty on materials and workmanship, ensuring the panels maintain their superior quality for a very long time. In addition, a 25 year linear power output warranty ensures that your REC solar panels will perform exactly as they are expected to – every year for 25 years.
Other features:
High module conversion efficiency of up to 18%
More power per square metre – advanced technology means at least 20 Wp more of power per panel compared to standard 60-cell panels on a polycrystalline platform.
By delivering more power per square meter, you need fewer REC TwinPeak panels to generate the same power. This means quicker installation times and the need for fewer components such as clamps and racks. All of which reduces your overall costs, shortening the payback time.
Unique Twin Peak technology- "twin" design enables panels to generate electricity even when they are partially shaded. Over time, you get a higher yield from your installation.
Certified to withstand high wind loads and snow loads
High salt mist and ammonia resistance
Operating temperature of -40°C – +85°C
Panels come in a choice of silver or black frame so you can select your preferred look.
Can be used for residential and commercial/industrial rooftops, solar panel plants and off-grid systems
Download the data sheet:
Not sure which system is best for you? Get in touch for more information about any of the above products or for a no-obligation quote.