Introducing Trina Solar Panels
Introducing a new Solar Panel brand to our range, Trina Solar. Trina is a well respected name in solar panel manufacturing and is the largest manufacturer of solar modules in the world. As a vertically integrated company, Trina Solar oversees the quality of its products across the supply chain, and all Trina panels undergo in-house testing and independent, third-party certification.
Trina's highly ranked position in the world market is evidenced by these achievements:
In a recent study of PV modules made by leading manufacturers, Trina Solar modules ranked highest in reliable performance under real-world climate conditions.
In 2016 Trina were named the world's most bankable solar panel manufacturer.
In 2016 they broke the world record for multicrystalline solar panel efficiency.
According to a report by the Silicon Valley Toxics Coalition, Trina is a leader in sustainable solar panel manufacturing.
TRINA PROTECT: 25 YEAR WARRANTY
While Trina Solar already offered a 25-year power performance warranty, Trina Protect now extends the residential module product warranty from 12 years to 25 years.
TRINA HONEY & HONEY M PLUS MODULES
Apparently named as it is designed to be in the "sweet spot" between cutting edge technology and cost effectiveness, Trina Honey Panels combine great aesthetics and efficiency with proven reliability and quality.
With the uniform, deep black monocrystalline cells, available with black or silver frames set to black or white backsheets, the Honey M Plus Panels pair good looks with the quality guarantee of Trina Solar and industry leading 25-year Limited Manufacturer's Warranty.
Download the datasheets:
TRINA SOLAR VERTEX S
The lighter, more compact ultra-high power Vertex S panels are designed for residential and commercial rooftops. The high powered 395W to 405W panels utilise a high-density panel format to achieve an impressive maximum efficiency. The best balance of power, size and weight.
Features:
Enhanced visual appearance (390w model) – aesthetic design, excellent cell colour control and thinner wires that appear all black at a distance
Small in size, big on power – generate significant power in a limited space
Smaller size and lower weight makes for easier handling and transporting and reduced installation cost
Mono Perc Cell and Multi-Busbar technology for better light trapping effect, lower series resistance and improved current collection
Compatible with existing mainstream optimizers, inverters and mounting systems
25 year product warranty and 25 year performance warranty with lowest degradation
Download the datasheets: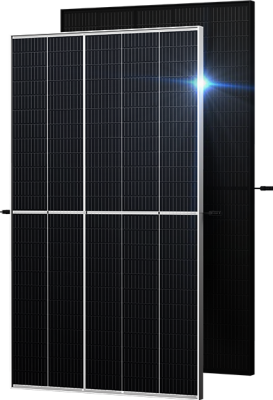 Not sure which system is best for you? Get in touch for more information about any of the above products or for a no-obligation quote.