Demand for Commercial Solar Strong & Growing
As solar becomes increasingly popular across the globe, many businesses are investing in solar PV systems for their commercial properties. We've seen a growth in the commercial solar sector and have been fortunate enough to supply and install some of the South Island's largest commercial solar projects. These solar projects include large retail and commercial warehouses, schools and retirement homes.
Why choose solar for your business?
Just like residential solar, commercial solar power systems save you money on your energy bill! Often commercial buildings are large, allowing for a substantial solar array and associated energy cost savings –  generally the larger the system, the higher the return on investment, as there are economies of scale cost advantages.
The financial benefits are further enhanced by the fact that solar power is produced during the day, often when businesses use the most electricity. This is in contrast to residential solar where production and consumption are not always well-matched.
Additionally, and very importantly, are the environmental considerations. A solar PV system installed on your facility offsets your carbon emissions and is a highly visible statement to clients, staff and the general public, of your company's sustainability credentials.
We introduce you to some of our recent commercial solar projects.
Blum Showroom, Christchurch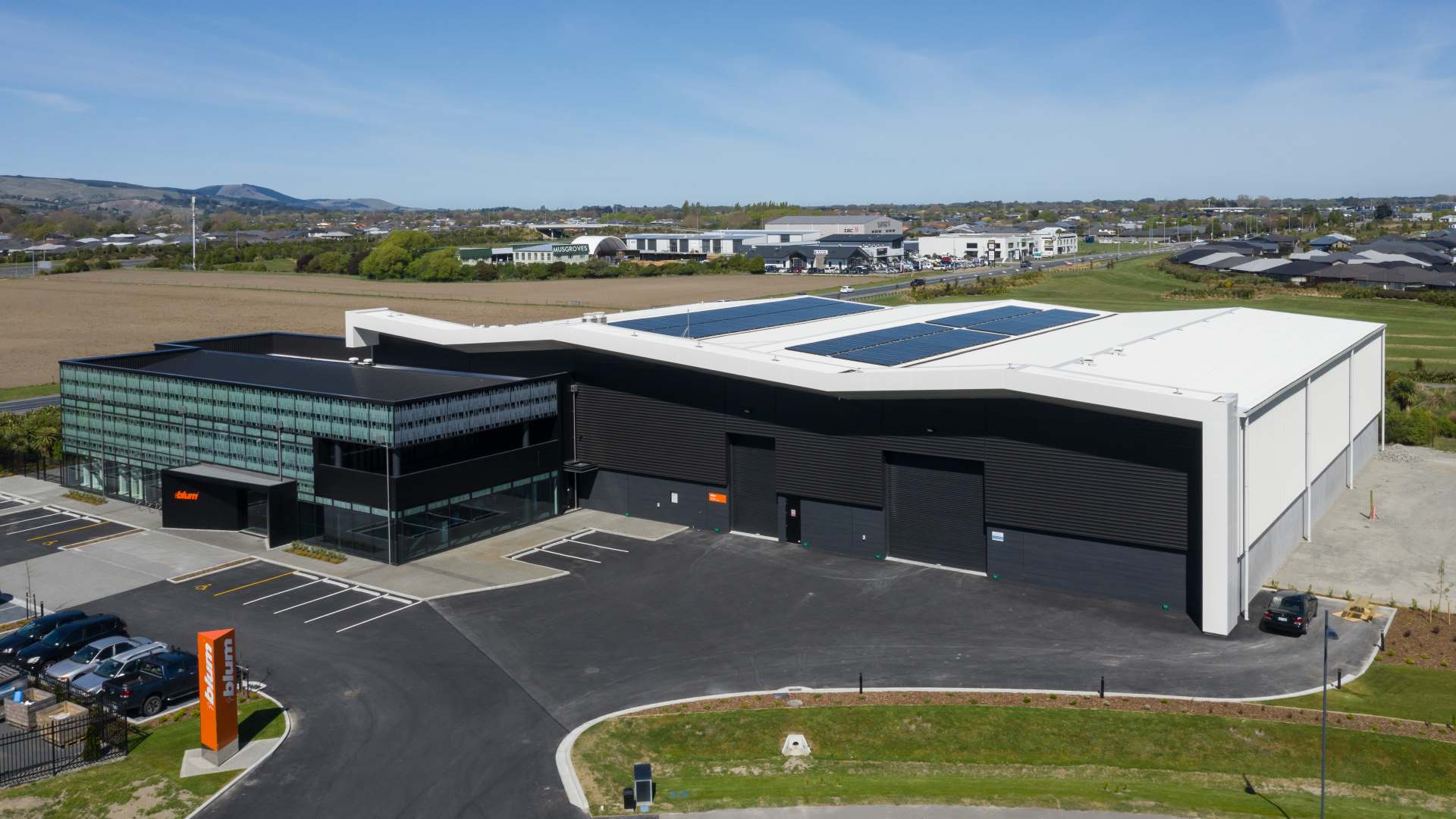 System:
Global kitchen hardware manufacturer, Blum, has an ideal of 'think globally, act locally'. The design of their new 3,150m2 showroom and warehouse in Christchurch shows just how committed they are to environmentally sustainable design and meets their ambitions to create a facility with the smallest environmental footprint possible.
The building features solar photovoltaic panels, a water recovery and recirculation system, geothermal heat recovery, smart ventilation, high-spec insulation and underfloor heating. Future proofing was also important, allowing for business growth without multiple extensions.
Move Logistics Warehouse, Rolleston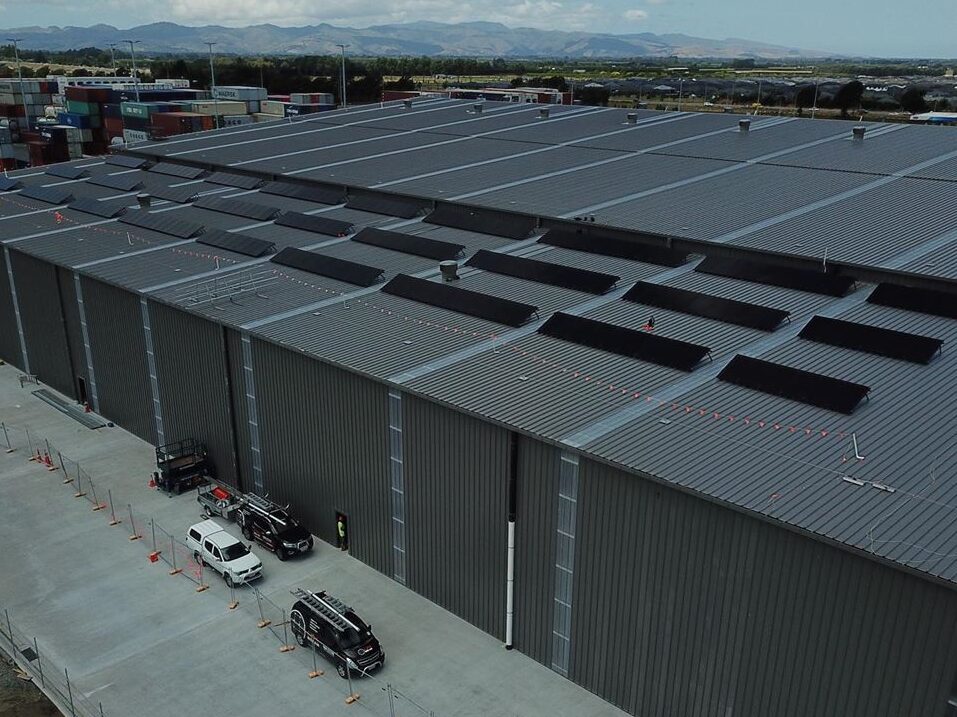 System:
Sustainability was a consideration for Move Logistics during the development of their major new logistics warehouse in Rolleston. The site has been equipped with the latest in smart lighting technology to save on electricity and LPG forklifts have been replaced with electric forklifts. As part of the stage two development, solar panels were installed to further reduce MOVE's environmental impact and saving them about 30% of their energy use.
Watch the Move Logistics building project time lapse here:
Arvida Living Well Apartments, Park Lane Retirement Village, Christchurch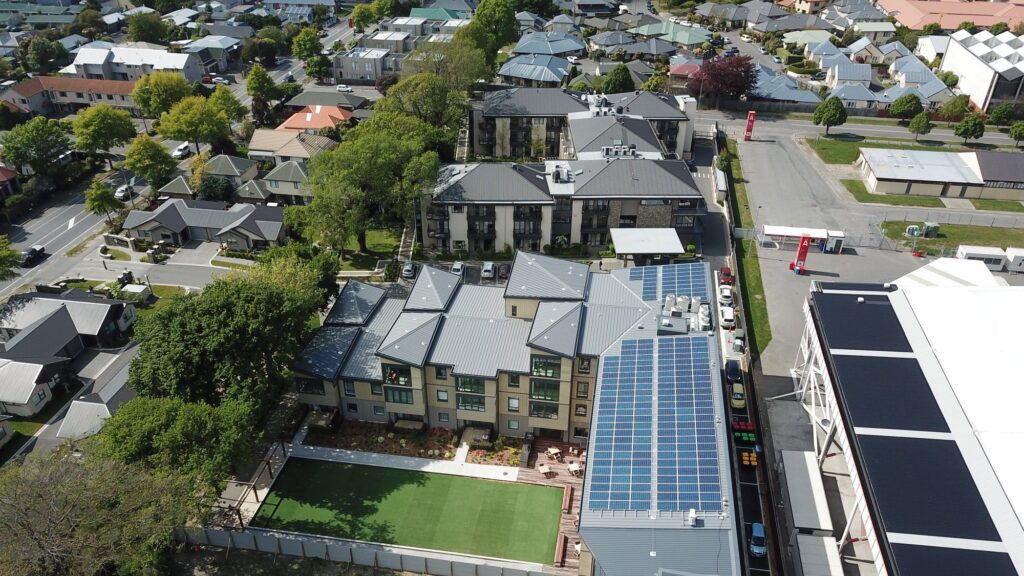 System:
100kW system done in two stages

Second Stage – 203 x Trina 270 watt and 2 x 20kW Fronius Symo and 1 x 10kW Fronius Symo

Potential power generation of 132,600 kWh per year with savings of $34,476 if all generation is used in the rest home (based on cost of 26c per kWh).
Aged care operator, Arvida Group's mission is to make its residents' lives better with everything they do. This philosophy carries through into the company's design and development principals.
All facets of the design and the impact on the lives of Arvida's Living Well Apartments' residents were carefully considered. They looked at the materials, whether they were locally sourced, considered their environmental impact and how their characteristics would enhance living environments.