Positive results from first year of Solar Schools Project
Back in 2013 CPS Solar was chosen to kick start a Solar Schools Project.  Named the 'Dunamis Project', the aim was to launch a sustainable energy revolution, starting with our schools.  We were given the task of installing 10kW Solar Energy Systems at two Lower Hutt schools, Maungaraki School and Naenae Primary School, in early 2014. Now a year down the track and Maungaraki School have reported back on their first year's results.
Maungaraki School raised funding for their installation purely through grants and donations, so they benefited from the savings from day one.  40 panels and two 5 kW Enasolar inverters were installed, which took 2 days, with another half day for the IT setup.
One year later, records show that Maungaraki generated an average of 1167 kWh a month. The panels peaked on one day in November 2014, generating over 80 kW, which shows that the panels produce more power when the temperatures are slightly cooler.
during the day, often when businesses use the most electricity. This is in contrast to residential solar where production and consumption are not always well-matched.
Additionally, and very importantly, are the environmental considerations. A solar PV system installed on your facility offsets your carbon emissions and is a highly visible statement to clients, staff and the general public, of your company's sustainability credentials.
We introduce you to some of our recent commercial solar projects.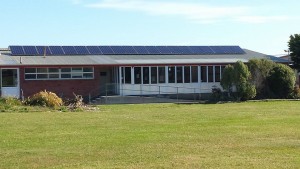 Having solar PV has reduced their power consumption by nearly 68%. In dollar terms, they will be saving over $5,000 a year! These savings will increase, as they introduce more power saving features. For example, they have converted their library lighting over to LEDs, courtesy of Ecopoint. LED tube lighting reduces lighting power consumption by at least 50%.
We look forward to hearing more about the schools' progress and other outcomes from the Dumanis Project.