Solar on the Cliff Edge – Red Rock House
Red Rock House is a beautifully designed home set on the cliff-top of the Scarborough Hills in Canterbury. The clients had sold their earthquake damaged home in Sumner Village and wanted to downsize to a home that was relaxed, captured the sea views and felt like a holiday home.
Environmental considerations
In addition, the clients had some environmental considerations for the design. It was to include solar electricity generation, rainwater collection, overhead louvres and an ultra-low emission log burner.
In keeping with the sustainability goals, architect Wulf Borrmeister (Borrmeister Architects) designed the home using sustainable materials as much as possible, including using a substantial amount of stone excavated on site to clad the basement level of the home. The upstairs living areas are designed to maximise the views to the North and South which take in the ocean, beach and Port Hills.  As a result, says architect Wulf Borrmeister, "the living areas receive all day sun and controlling the solar gain across the day was a crucial to the design".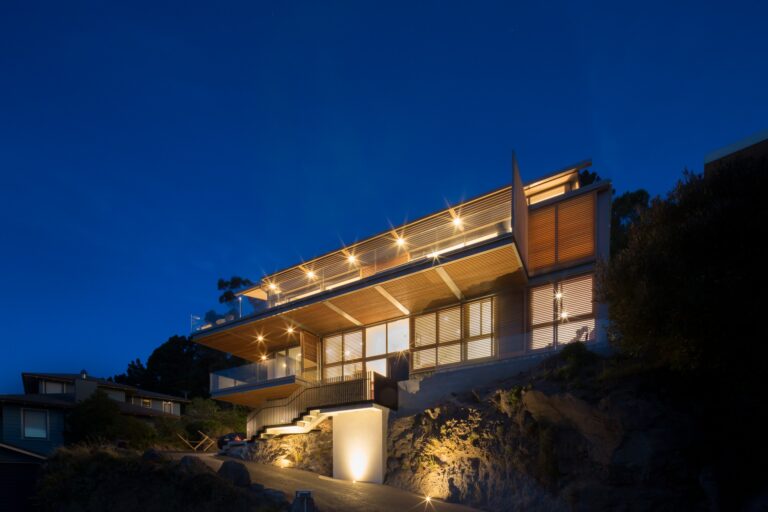 Image by Sarah Rowlands
Sailing high
Therefore, a lightweight warped roof – referencing the sail on a mast – follows the sun and enables the living space to capture the light early in the morning while controlling the solar gain in the afternoon.  The design also includes high performance glass, thermally broken windows and a concrete floor for passive solar gain.
The roof is clad in Calder-Stewart Solar-Rib.  This product, chosen by the clients and supplied by CPS Solar, is specifically designed to generate power through the use of Photo-Voltaic Laminate (PVL) solar panel technology.  "The clients are extremely happy with the product and are now making maximum use of their solar generation, having recently invested in 2 electric vehicles," Borrmeister says. CPS Solar are delighted to have been involved in this project.