Christchurch Superhome receives 10-Star Eco Rating
What was to be New Zealand's first 9 Homestar rated home, has now received Australasia's first-ever 10-star Homestar eco rating, an award that recognises its energy-neutral, sustainable footprint.
The 140m2, two-storey home in Addington, Christchurch, was designed by Bob Burnett Architecture, leading advocates of sustainable homes. The innovative electrical infrastructure designed using PDL by Schneider Electric solutions, with the solar photovoltaic (PV) panel system installed by CPS Solar, enables the home to switch seamlessly between mains and solar power.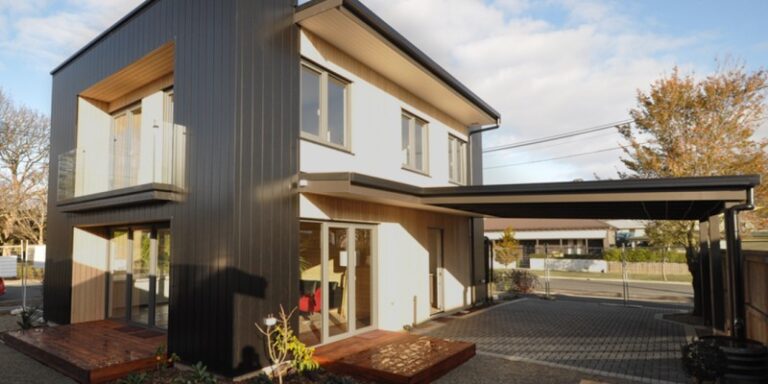 Thermally efficient design
Its thermally-efficient design includes solar wall framing which pre-heats ventilation air, a hydronic underfloor heating system and slab-edge insulation to reduce heat dissipating from concrete floor slabs.
Complementing these are numerous eco-friendly features: rainwater harvesting, reusable grey water, water-efficient fittings, solar power and energy efficient lighting and electrics. The reduced use of heating and electricity should keep the home energy-neutral, leaving it free of power bills.
Homestar rating
The 10-star rating was awarded by Homestar, a system run by New Zealand's Green Building Council. It uses a 1-10 scale to measure factors such as energy and water use, waste, ventilation and health and comfort. Homes built to New Zealand's current building codes typically rate three or four on Homestar's scale.
Bob Burnett says the thermal and energy efficiency in New Zealand homes lags far behind the rest of the world, and he plans to change that. "Energy-efficiency doesn't have to be costly. As this home illustrates, it's actually about using existing technology in a cleverer way – simple but smart."
The Electrical Solution
The home's electrical supply is split between conventional 240 volt AC from the grid and a 24-volt DC system from 16 roof-mounted solar PV panels. Most of the demand is met by the batteries – the home automatically switches to 240 volt mains when the batteries run low. The overall configuration demanded a relatively simple electrical design, but it came with a caveat.
Dave Chapman, Schneider Electric's Channel Manager (Residential), said that in order to meet the architect's energy efficient, sustainability brief "…we had to think a little differently. Considering that the home is designed for a family, affordability was key. There is a misconception that energy efficient technology often carries a cost premium. Bob wanted a solution using standard, off-the-shelf technology."
Dave's team opted for energy saving techniques such as motion detectors – sensors which switch off lights if no one is in the room, and to support that they enhanced conventional wiring templates.
The Solar Solution
As a specialist partner company of Schneider Electric, CPS Solar was the chosen supplier for the solar component and we installed the 16 PV panels. Each one is rated at 260 watts and charges two sodium-ion, 24volt batteries housed within a wardrobe.
"The panels' combined output of 4.16 kW is easily sufficient for servicing the two batteries. These are maintenance free and fairly compact – each battery measures 300 by 300 by 900 millimetres (LWH)," explained CPS Solar's owner, Murray Marquet.
The DC power is converted to 240 volt AC by a Schneider Electric inverter connected to a Battery Management System (BMS). When the BMS senses that battery power is too low, it switches back to the national grid supply. It does this with the help of a simple DIN rail device mounted in the home's switchboard.
"The switchover is automatic and seamless," said Marquet. "And as a grid-tied system, the solar configuration also feeds electricity back on to the national grid when there is excess battery power. It's clean electricity delivered to the grid at the standard 50Hz frequency. There are no rogue wave-forms."
The Superhome Movement
Homes with improved energy and thermal performance are likely to become much more common if Bob Burnett has anything to do with it. He has been instrumental in establishing Superhome – an industry initiative in Canterbury.
Superhome aims to build some 1,000 homes with a seven or higher Homestar rating over the next three years. A recent Auckland study, he points out, shows that a six-star home only costs about 2.2% more to build than the standard New Zealand three-star home, and that a six-star rating will halve a home's energy bill.
CPS Solar is proud to be associated with New Zealand's first 10-Star rated home and we look forward to again working with partners like Bob Burnett and Schneider Electric in building healthier, warmer and more energy efficient homes.
More information
This article was adapted from an article in Envisage News.
For more about this project and others by Bob Burnett, read his build blog.
Not sure which system is best for you? Get in touch for more information about any of the above products or for a no-obligation quote.